I decided to hit a local estate sale on its first day, the morning of the Saturday before Thanksgiving. Arriving about 30 minutes before the door opened, I got number 49 -- ugh. The ad made no mention of mid-century stuff, but it indicated a full house and 1940s-60s things, so I figured I'd stick it out.
Luckily, I didn't have to wait long before I got in, and I was able to nab some pretty great stuff in my first swing through the house, including a nice white vinyl danish style loveseat, another pole lamp, several small items (details and pics in an upcoming blog post, I promise), and this nicely done chalk nudie picture I procured for the man cave (I have altered the image to keep from appealing to prurient interests or offending anyone, and to keep this here blog's PG rating). The signature on the bottom of the painting belongs to the estate owner, and judging by the projects I saw in the basement, I'd say the guy had some artistic talent!
All this stuff was in the basement, which is where I tend to go first at an estate sale. I like to let the others fight over things upstairs while I get the cheaply priced things on the outskirts.
The house had so much stuff that I paid, loaded up my car, and went back in to peruse some more. I spent three and a half hours there on Saturday morning, went back one more time that afternoon, and then I went back on Sunday for more! I'm telling you, the place was packed, and from what I could see, it was obvious the owners never ever had a garage sale. Bless them for keeping it all around for us to pick from.
My Sunday visit was necessary because I had to help a couple of hired laborers haul this beautiful beast out of the basement!!!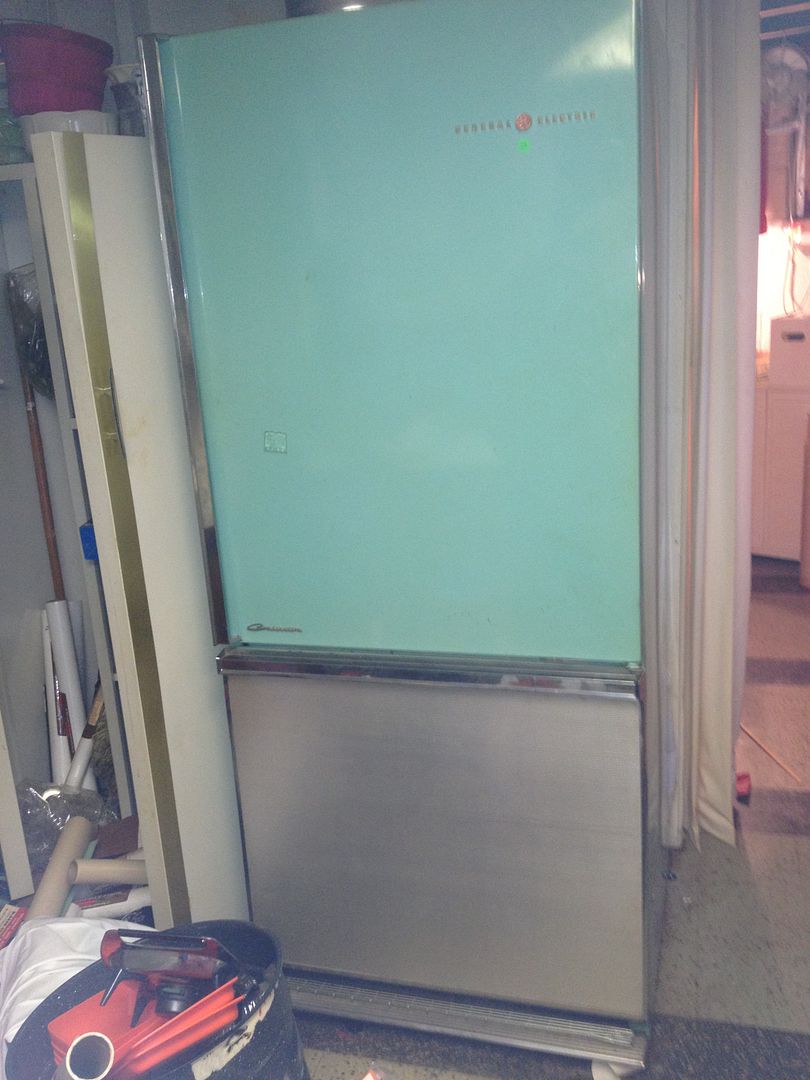 It's a 1957 General Electric Combination refrigerator with a lower freezer. How about that turquoise/mint color?! It wasn't priced, but I asked the guy running the sale if it was available and he named a VERY attractive price for it, with the understanding that I had to arrange to get it out of the basement and he wouldn't provide any labor. So I bought it immediately! He said it works (a neighbor told someone else she didn't think it works), but either way, it was too good a price to pass up, even with the money I spent to hire the laborers.
The fridge was not plugged in. Instead, it was used to store all kinds of stuff, from cleaning products to candles to light bulbs. My fingers are crossed. I have a new friend coming over this weekend to help me get it off the truck. I've heard it's wise to wait before plugging in a fridge that has been on its side, so I'll let it re-acclimate to the upright position for a while before seeing if it will get cold.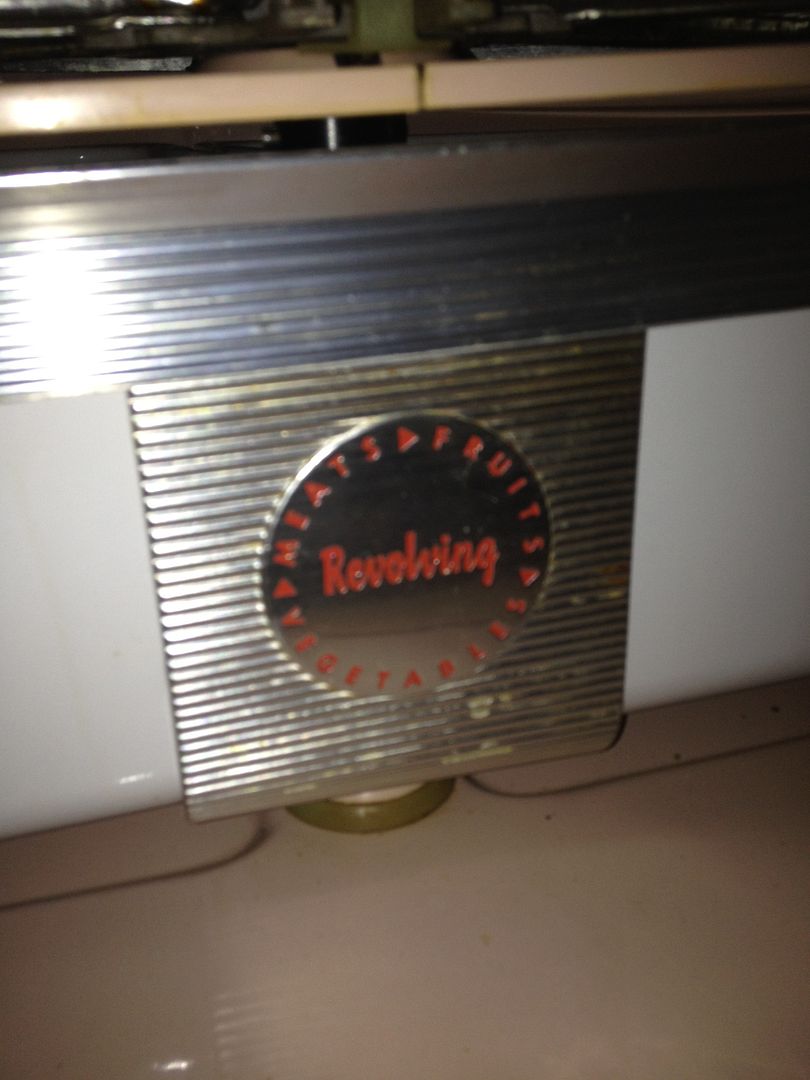 The shelves are half circles of aluminum, and they rotate like a lazy susan. Too cool, huh?!!! It also has a foot pedal which opens the door for you when your hands are full. What a great idea. It's too bad that in this modern age of ours, we can't have such wicked cool design and neat features. What's up with that?
I also met some very cool people who bought even more than I did! Mark and his wife sell some on that
auction site
and they collect mid-century things too. I pointed them to this blog, and Mark got inspired to start his own blog as a result.
Check out his blog here
.
Next to my fridge in the basement was this great vintage Kenmore top-loading, portable dishwasher. I posted about it over at the vintage Automatic Washer Forum (yes, there is one of those, and it's full of passionate collectors with a lot of knowledge!). Check it out
http://www.automaticwasher.org/
but come back to finish this blog post, OK?
I love the gold-flecked Formica on the top, and the control panel and the handles and lock on the front. Very stylish.
The lid pops up, and the rack inside is pink! The operating manual was still there, and it too was available at a very reasonable price. In fact, Jeff in Arlington, who I met when I was giving away the last portable dishwasher I found, decided to buy this at the sale. He arrived on Sunday morning while I was getting the fridge out of the basement. Great guy, and he was thrilled to get the dishwasher. Another one saved from the landfill! He's also volunteered to help me move the new old fridge from the truck onto our back porch.
The house also had these wonderful turquoise/mint metal kitchen cabinets and matching oven/range. I asked if any of them were for sale, but the owners plan to rent the home so it sounds like a remodel won't be happening, at least not immediately.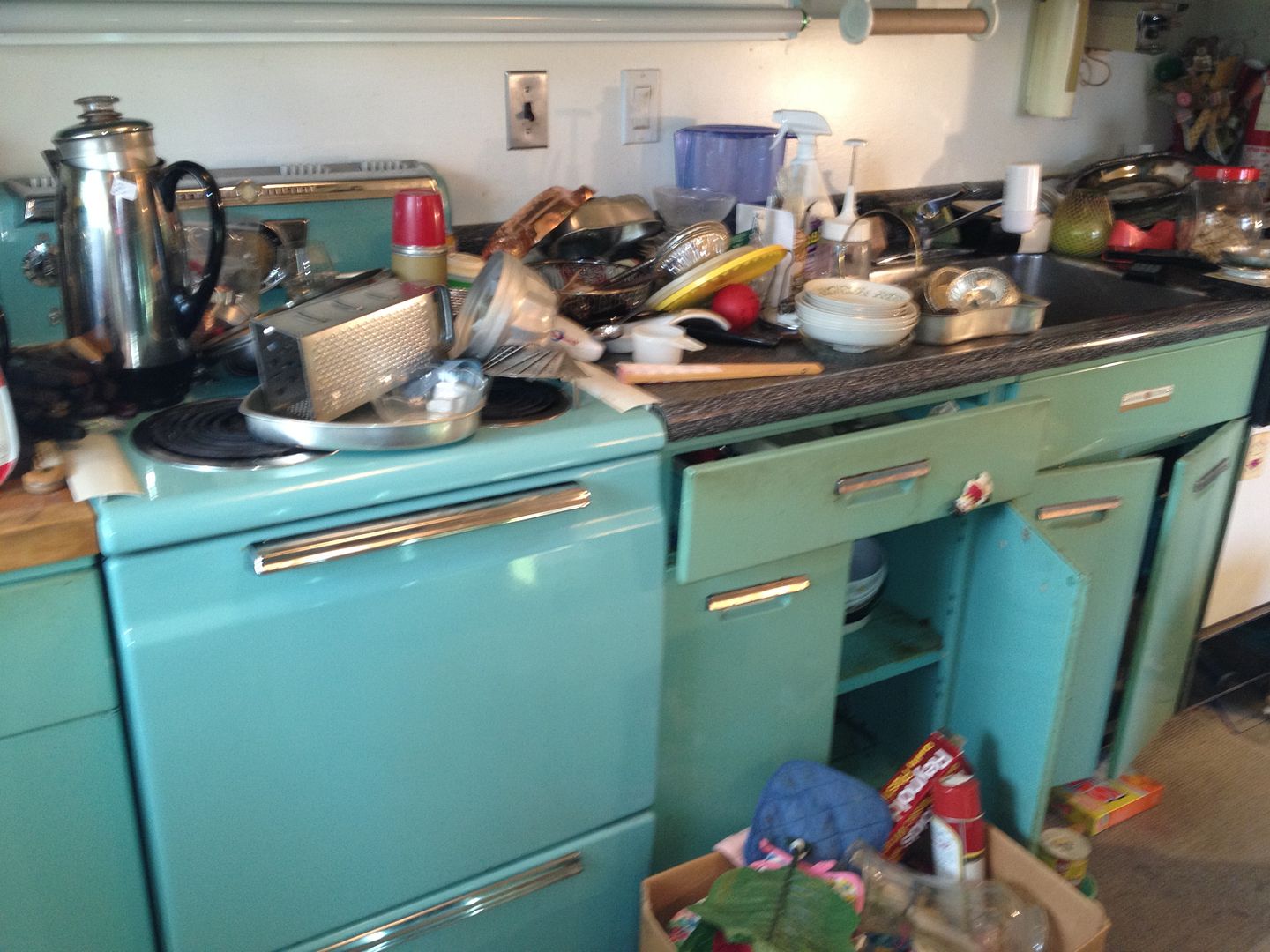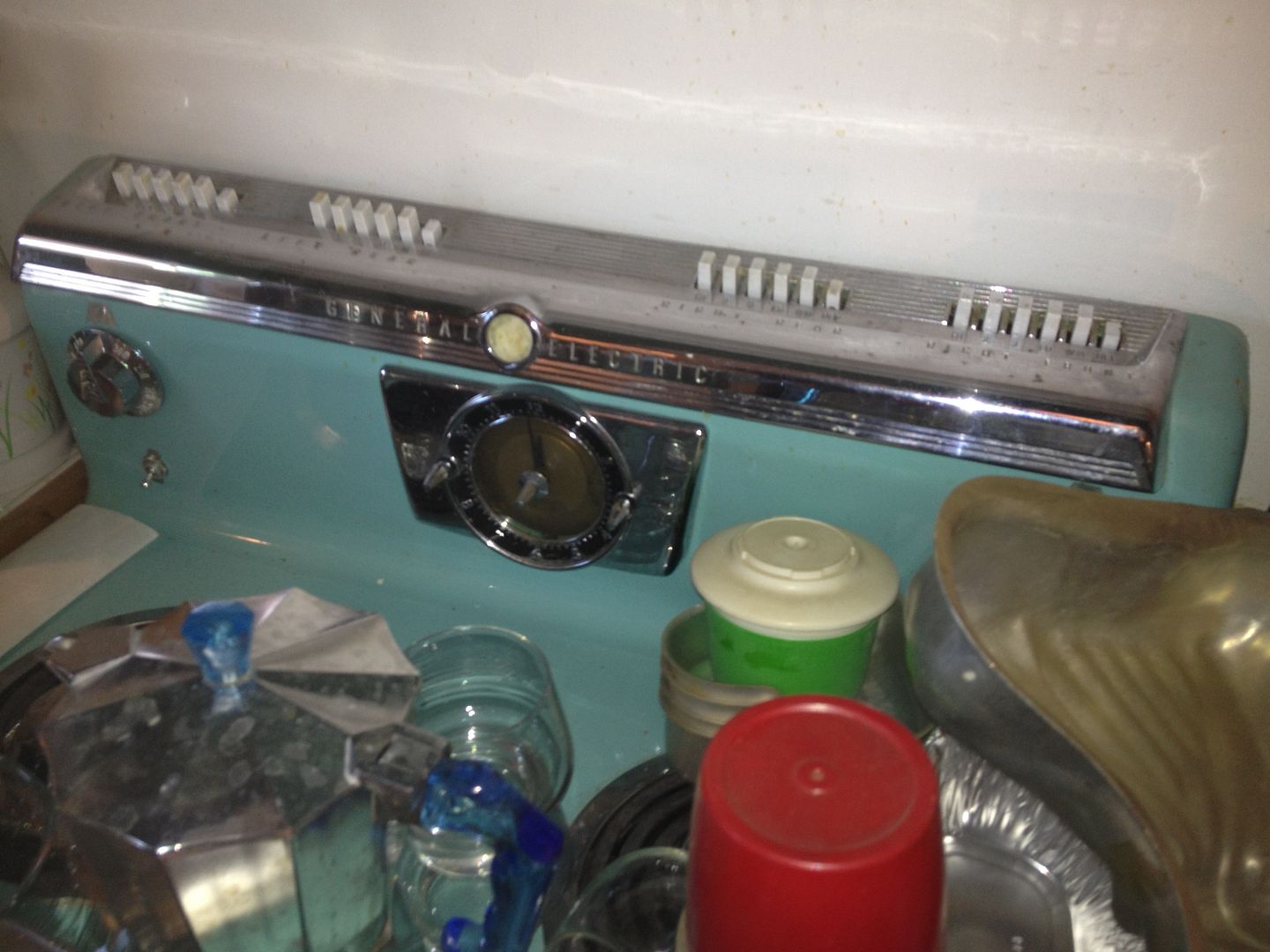 I better wrap up this long post, but I have some more estate sale finds to show you all in an upcoming post. Happy Thanksgiving!