I enjoyed meeting Facebook follower Patrick yesterday. It turns out he has a 1957 GE refrigerator with similarities to my recent estate sale acquisition. He also brought me this great two-page specifications sheet from his collection of sales pages. (Thanks Patrick!!)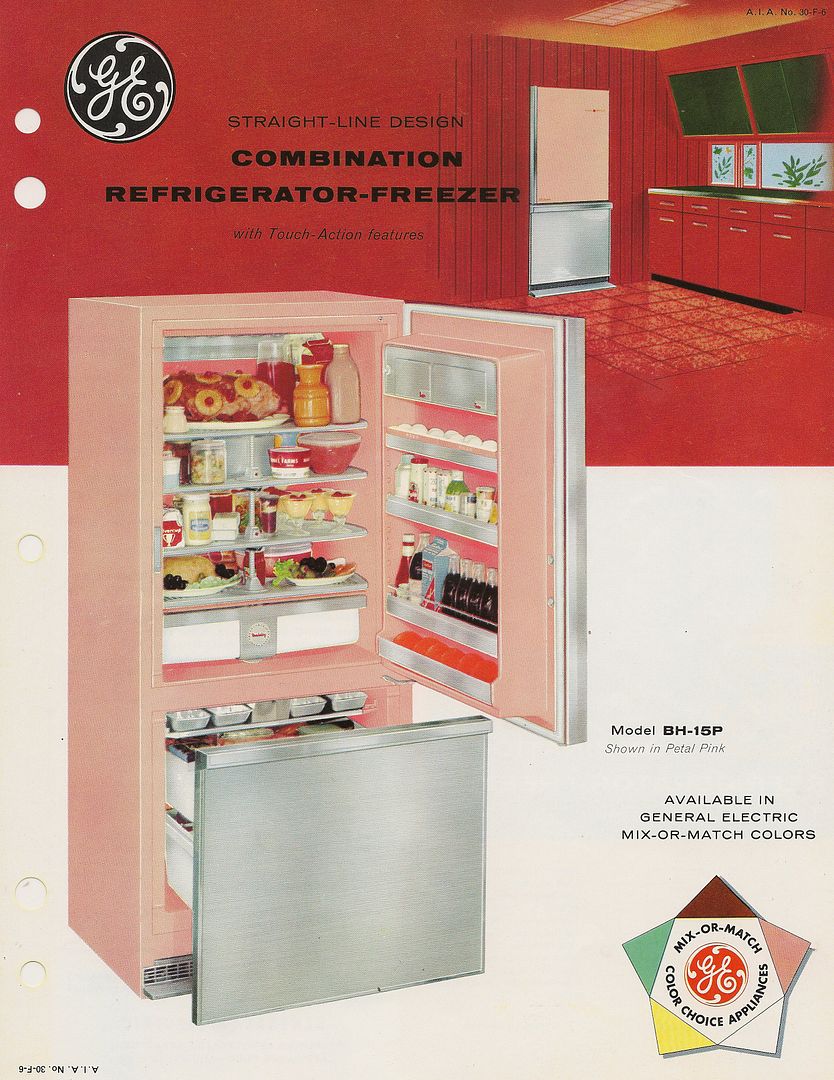 The star in the lower right corner shows the exterior color choices you had with this model. Patrick's fridge is pink like the one pictured here, except his is the more traditional single-door fridge with the freezer compartment on top.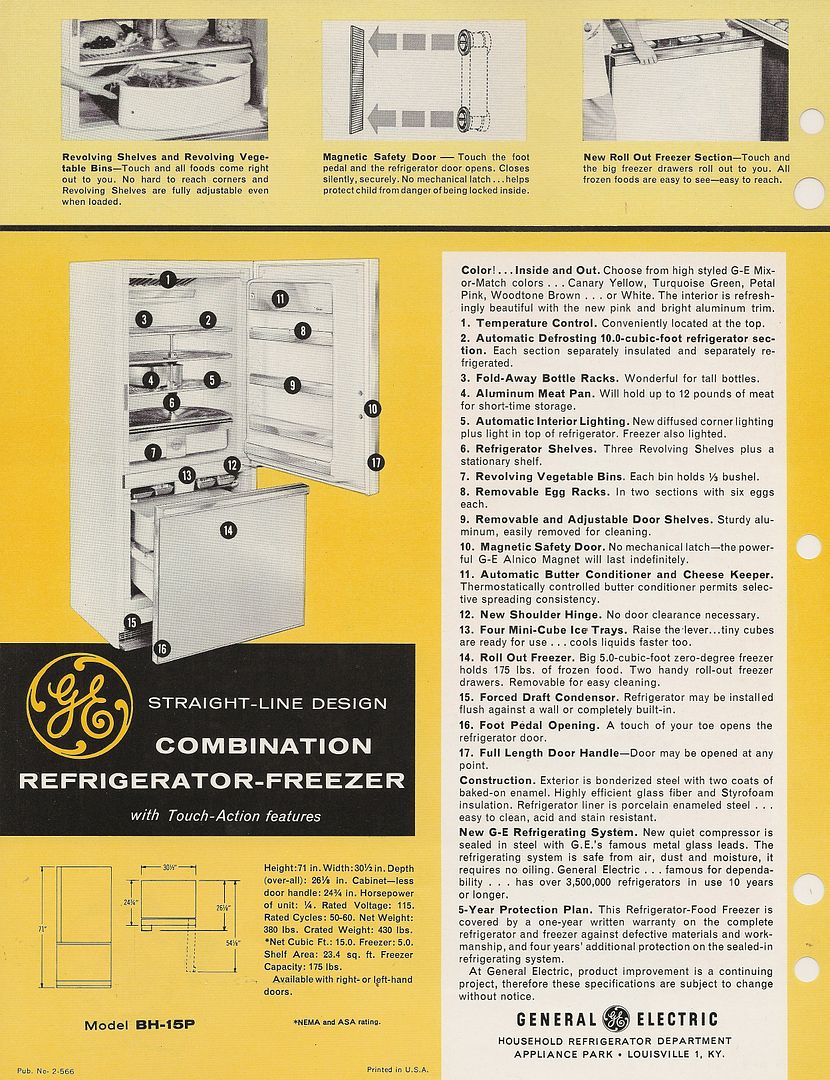 I was hoping the specifications would shed some light on a couple of questions I have, but no luck. The butter compartment is discussed, but it makes no mention if the fridge came with a glass butter dish like the one that was in mine when I found it. The dish is very heavy and fits the compartment perfectly...
I also wondered what the ice cube trays should look like, what color they were (pink, like the inside of the fridge?), but again, that detail was missing from this sales piece.
Knowing that Patrick was coming to see the fridge got me motivated to do some more cleaning. I got the outside looking pretty good, and the inside too. And with it a little cleaner, I decided to get some better photos with my new Panasonic micro four-thirds camera.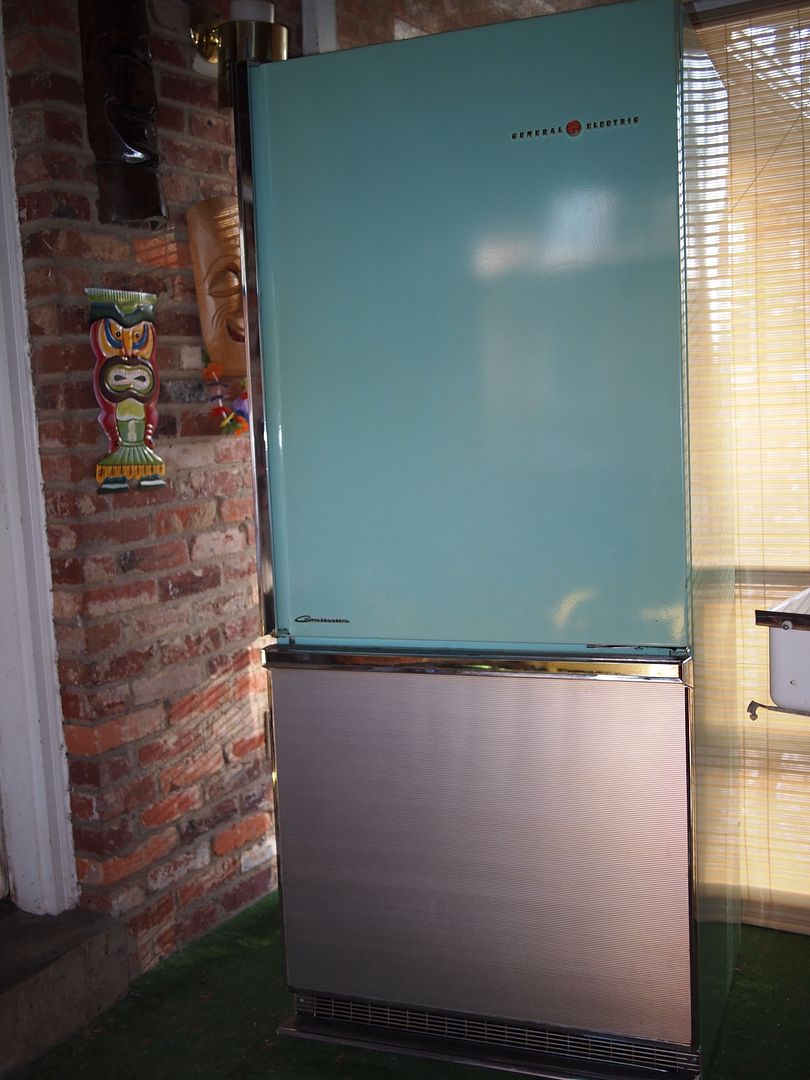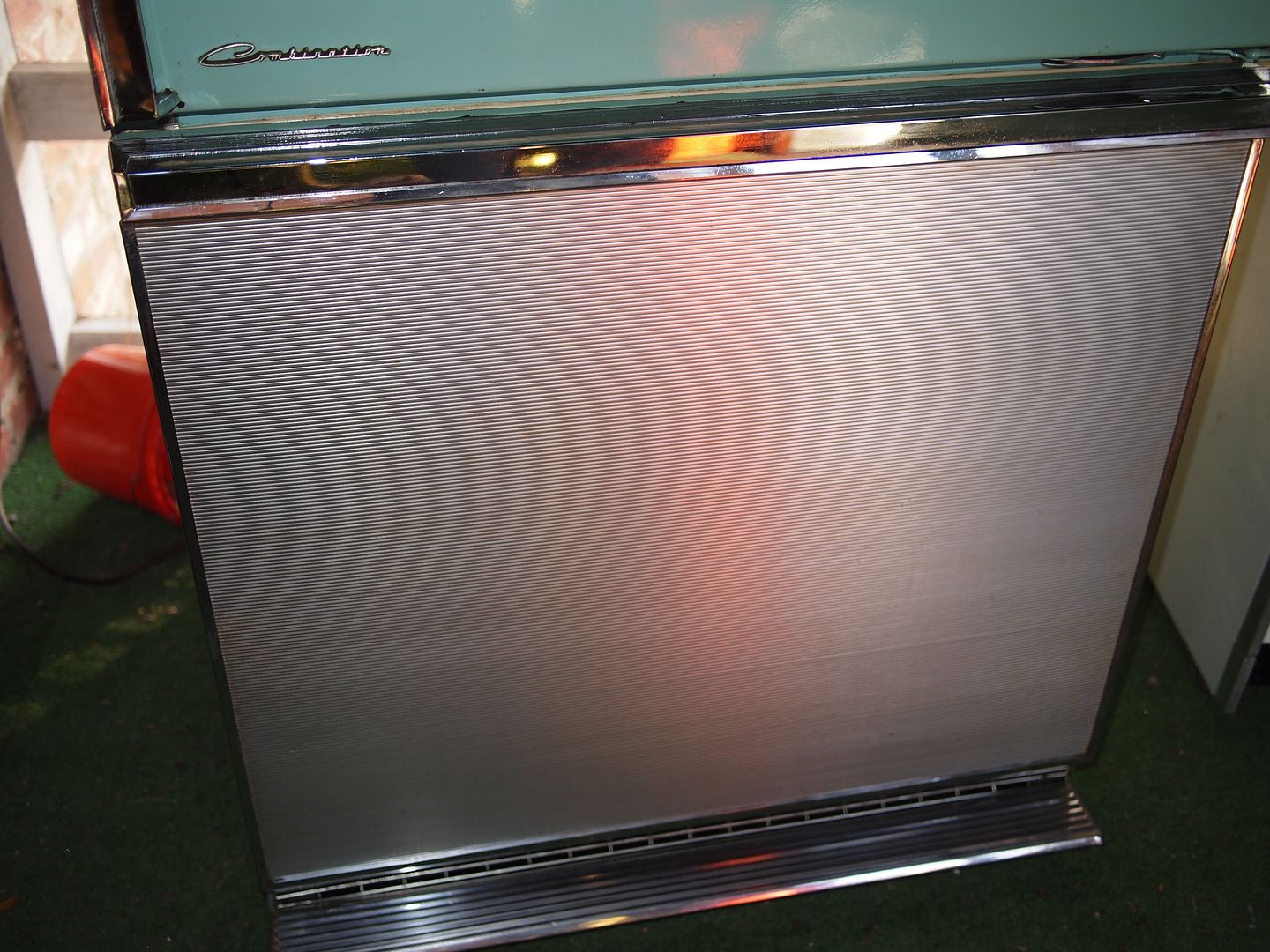 This shot illustrates the cool swivel feature of three of the shelves.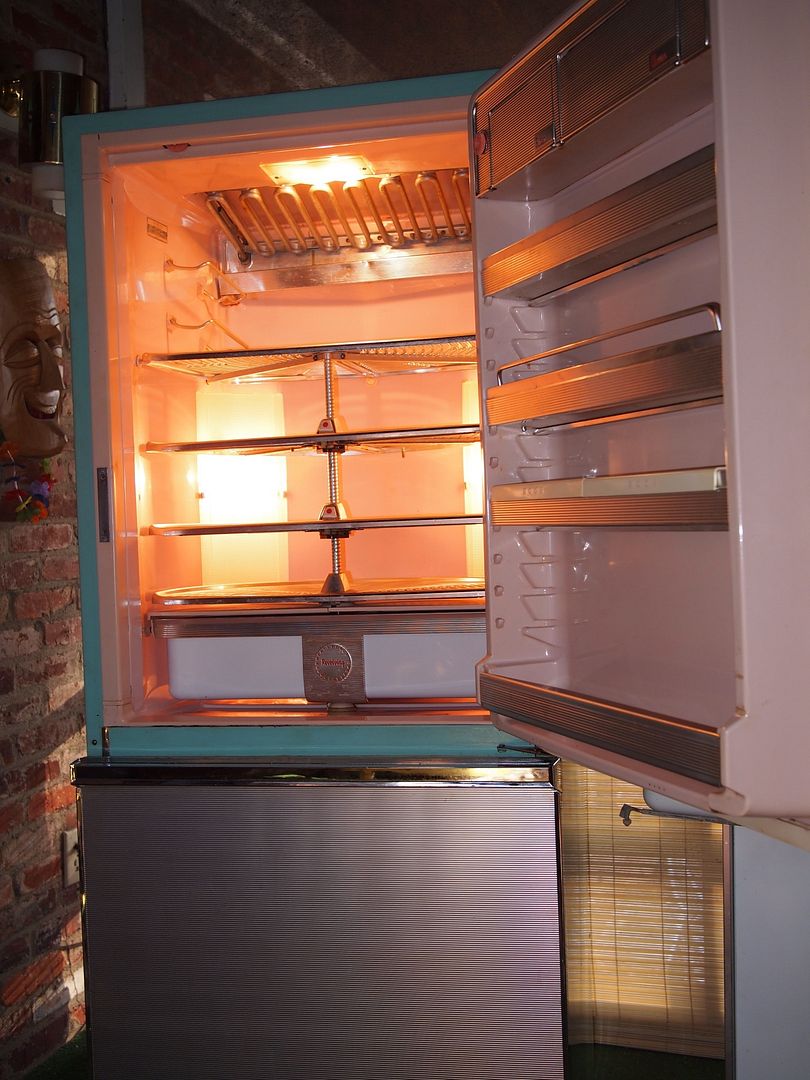 Below the movable shelves are two pie-shaped crisper boxes for fruits and vegetables. They also swivel like the shelves.
The riveted tag with the model and serial numbers is still there -- mine is the BH-15P.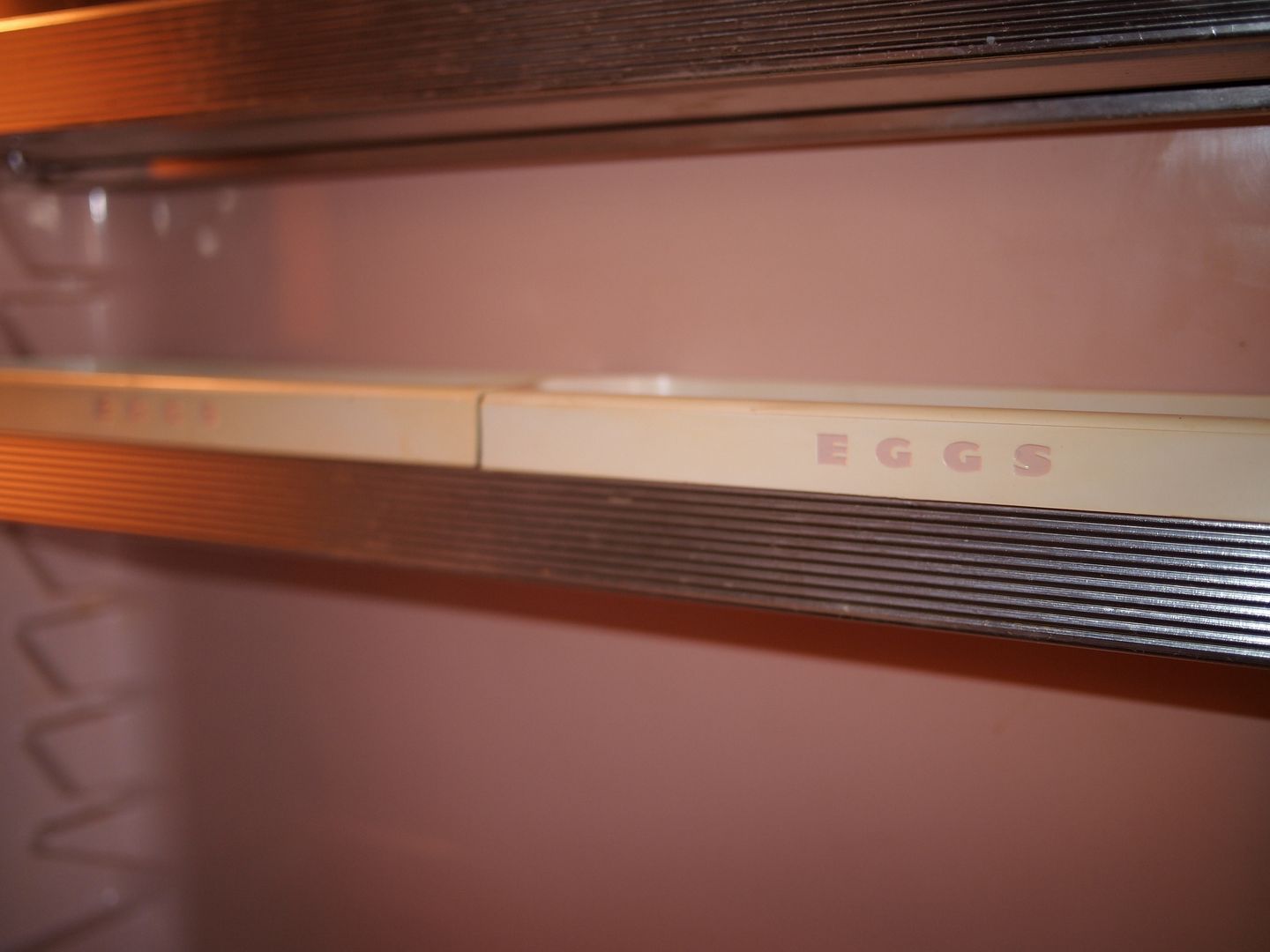 Two plastic egg holders sit on one of the door shelves.
The sad news is, while I have the interior light bulbs all replaced and working, the fridge is not cooling and the freezer is not freezing or cooling. So I need to find someone who can diagnose the problem and hope that it is fixable. I'd like to find a repair manual for the thing so I could start to understand the mechanical components, so I'll be on the lookout for one of those.