With SWMBO out of town for the weekend, I figured I needed to move one of the Flair double ovens into the laundry area where luckily I have a 220 volt plug in so I could test it out and figure out if this is ready to use in our kitchen. So I moved enough stuff to heave the Custom Deluxe oven close to the plug and, with a fire extinguisher nearby, I plugged it in.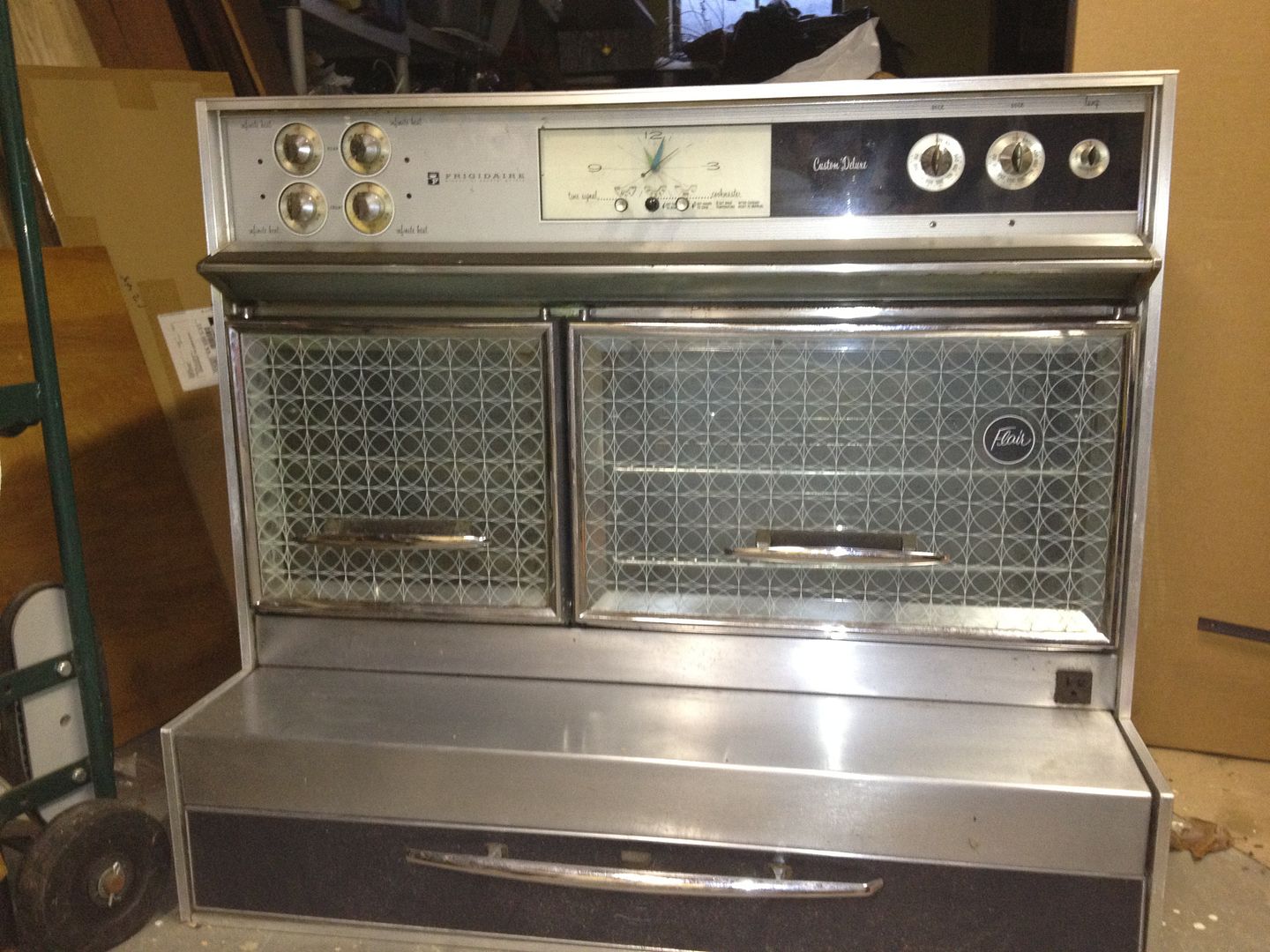 The Custom Deluxe
The good news is, I found most of the heating elements work, except for the non-broiler element in the smaller oven, and the 8-inch front right burner on the slide out stove top. Oh, and the clock only works intermittently. While I was in the mood, I took off the oven doors one at a time, disassembled them, cleaned up the chrome, trim, and glass, and put those back on the oven. That took up the better part of my Saturday and Sunday morning.
The bad news is, the one stove burner that doesn't work looks to have a broken mount, and I don't know if it can be fixed. (Big sad face). That's the burner where the optional no-slip griddle I have would be used. With these two problems, I'm not going to try to install this heavy thing- yet. I know I can get the clock rebuilt, but I have to do some checking to see if I can do anything about the front burner mount.
Meanwhile, the other Flair oven - the Custom Imperial double oven, the one I bought mainly to get the bottom cabinet that came with it - has its own problem. I got it off the truck and have it outside covered with a tarp and raised up off the driveway. I had planned to put it in the kitchen, but while I was cleaning it up I decided to try and clean behind the gauge face plate and, I broke the darn glass face plate. ARGH!!! (Really Big Sad Face). My initial thought was to try and use the face plate from the Custom Deluxe, but, they are different. So right now, I have two ovens with issues, and I'm pretty frustrated. (This experience is very similar to what I've been through with restoring old cars, so I know the best thing I can do is take a few deep breaths, back away slowly, and put these things on ice until I can either find the parts I need and figure out how to fix the broken things.)