Getting back to my history with owning old cars, here's some more on my Cougar obsession.
In an
earlier post
I showed a photo of my first Cougar, a very rare 1970 XR7 convertible with a 4-speed close ratio toploader transmission and 4-barrel 351 cleveland engine.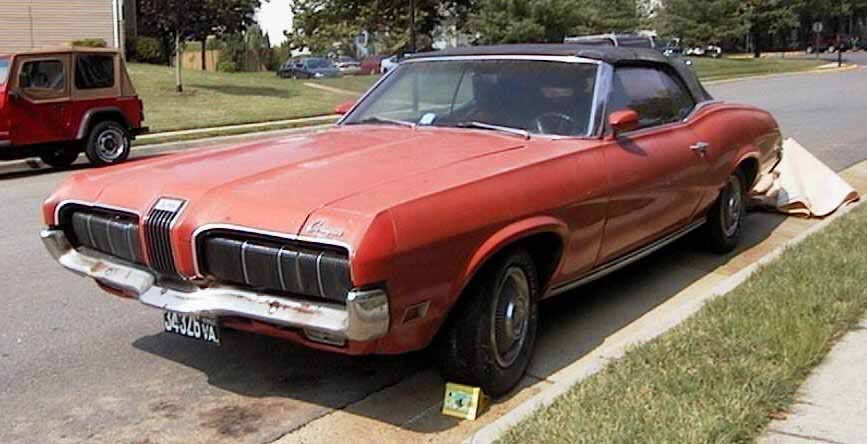 A very cool car that was just too far rusted out for me to restore myself. It's in the hands of someone now who I hope will one day get it back to it's former glory.
Here are a few others:
Nitcat is the blue car on the end.
Nitcat
- I bought this 1970 Cougar to use as a parts car, but it ran and drove and I quickly decided to license and insure it and start driving it all the time. I had a lot of fun, learned a lot, and spent a lot keeping it on the road. It got me up and back from Pennsylvania numerous times, although it also left me stranded lots of times too. Eventually I parted it out because of all the rusty rot underneath the car. It was worth more as parts than as a whole car, and I sold many pieces to members of our local club, the Delmarva Cougar Club, and sold other smaller parts on that auction site.
Yelle
r - This 1969 Cougar convertible came to me in 1999, and it was a lot of fun. I drove it on sunny days and took it to some car shows and Cougar club events. The paint and interior were not original to the car, and I eventually got tired of it after the engine and then the transmission gave out, and sold it a few years ago. When I got the car, it had all the chrome trim blacked out. Over time I realized how awful that was, and changed the bumpers and some other pieces back to chrome.
This is one of my favorite shots of my daughter with Yeller soon after I got it.
I sure wish the digital camera at the time had given me a higher resolution photo,
she really looks cute in this shot.
I got on a stepladder to get this shot.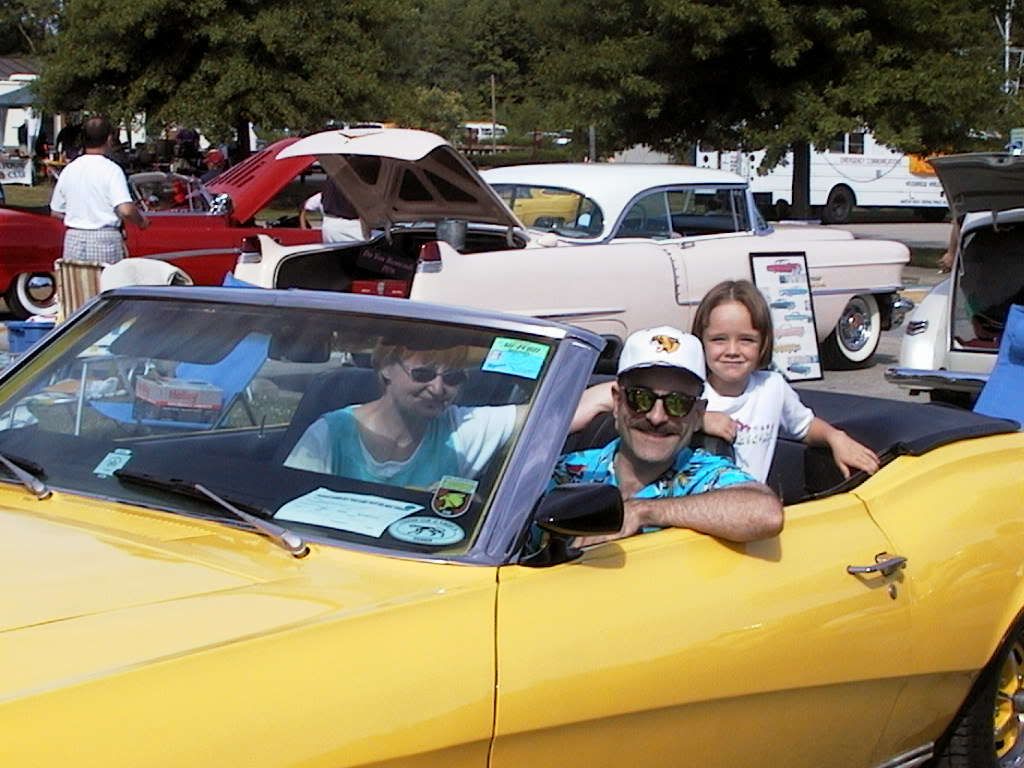 This was us arriving for a car show in 2000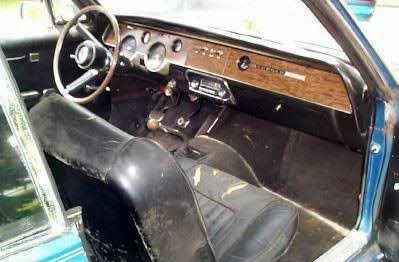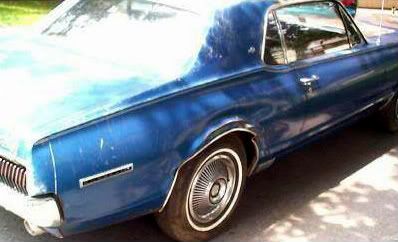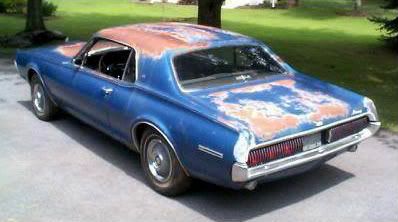 This is what the '67 XR7 looked like the day we picked it up.
Barncat
- This is the only Cougar I own now, and it's a fun car. A 1967 Cougar XR7, it was built late in the first year of production, and is pretty rare because it is an XR7, the more plush model, but it has an optional 4-speed manual transmission connected to the original A-code 289 four barrel engine. Most Cougars were sold with automatic transmissions. This car also is rare because it was ordered without air conditioning, and also without power steering.
So far, I have rebuilt the front end of the car and lowered it a little by drilling new holes and repositioning the upper control arms, commonly called the "Shelby drop." I also redid the brakes, put in a larger 1970 Cougar fuel tank and reinforced around the tank inside the trunk, scraped and cleaned under the car and painted those areas, installed a new hood and spoiler and trunklid, pulled the old carpet and cleaned and applied a brush on sound deadener to the floors of the car, installed Tri-Y headers and new side-exiting exhausts, and smoothed out the roof and door dings. There's still a lot to do, but some day...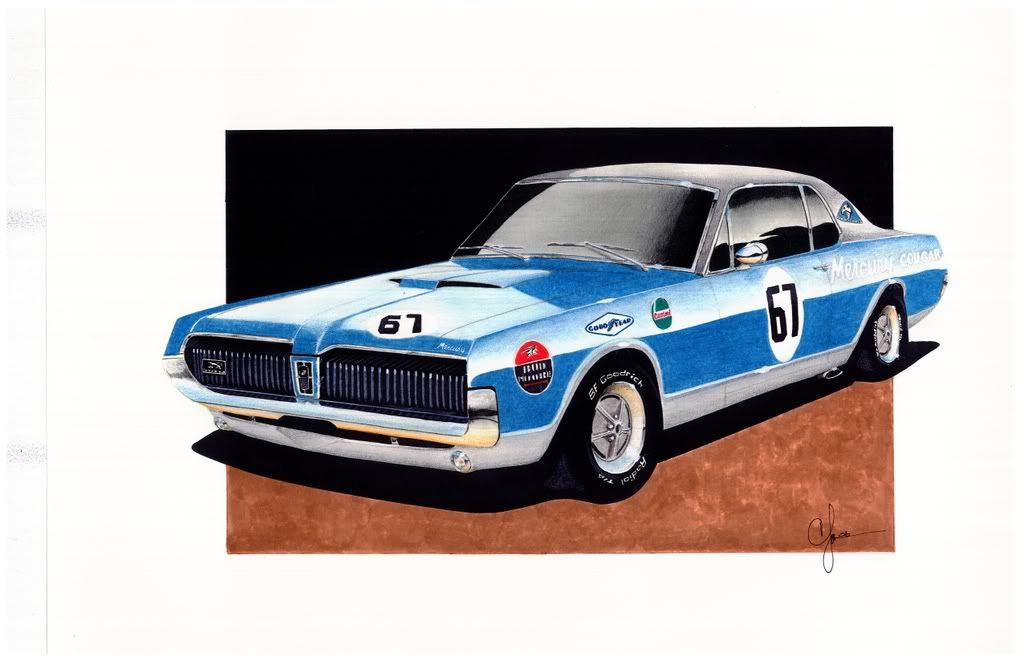 I found a guy online who drew this for me based on some photos I sent him.
So on one hand, it's got the luxury trim (XR7 included leather seats, burled walnut finish on interior trim parts, tachometer and different gauge cluster than in the standard Cougar, different door panels and overhead console which was really little more than a roof-mounted pair of map lights and some idiot lights).
On the other hand, this luxury car is missing not only air conditioning and automatic transmission, but also missing power steering, and it originally did not come with the center console (I've since acquired one from a good friend). It's a great car and the four-speed manual shift makes it a lot of fun to drive, except in traffic.
I call this car Barncat for a couple reasons: one, it has a real mangy look, with some surface rust and wear, some transplanted parts, and a dented rear quarter panel. Two, it spent about 21 years of its life in a barn near Olney, Maryland, untouched! I bought it after the seller got no bids two different times when he had it posted on that auction site. The car has about 87,000 original miles on the odometer. I went and looked at it and was amazed that underneath the car it was not all rusted out and rotten. We settled on a deal and soon after that I sold off the 1970 Cougar convertible to make room and keep SWMBO from mutinying!
I referred to this cat as mangy, and I have some validation - when our club hosted the eastern Nationals for classic cougars in 2005, it got third place in the "Mangy Cat" division. Yea, I was bummed it didn't get first place, but now I consider finishing 3rd even more cool!
I keep postponing plans to get the body work done on this car, but I really need to finish it.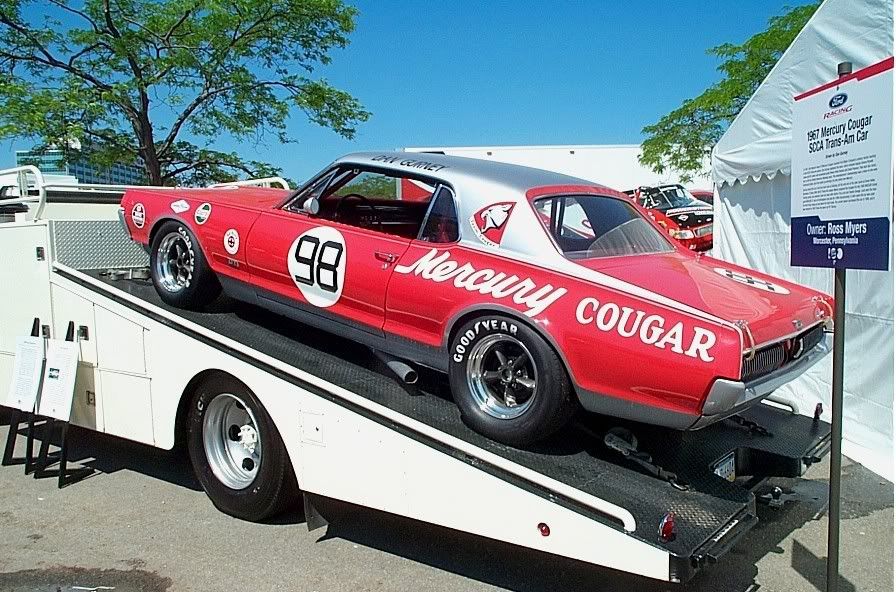 Plans are to use a Trans Am racing color scheme that mimics this silver/red scheme used on the Bud Moore Cougars that barely lost out to the Mustangs in the 1967 Trans Am racing series. It would be great to find an old car hauler like this to use for my Cougar.
I want to keep the XR7 interior close to stock looking, but do some mechanical, suspension, and paint modifications to make it look like a racer you could have bought off the showroom floor if it had ever been offered that way. I would like to use the silver accent paint and combine it with a shade close to the Nordic blue the car originally came with.
So there you go, a quick run through of my love affair with Cougars.
Maybe some day I can be like Dan Gurney or Parnelli Jones or David Pearson, who all drove Cougars in the Trans Am series. Uncle Atom would look good painted above the driver's door, don't you think?