OK, before I wire up one of the 3-tiered wall lamps, here are some more pics of our screened porch.
This shows the porch from the outside. Duh. The roof is made of sloped tongue-and groove redwood, and the roof extends past the screened porch to form the roof for the carport.
Tbe room has some design challenges. First, it has four, yes four, doors. Two screen doors, and two dutch doors.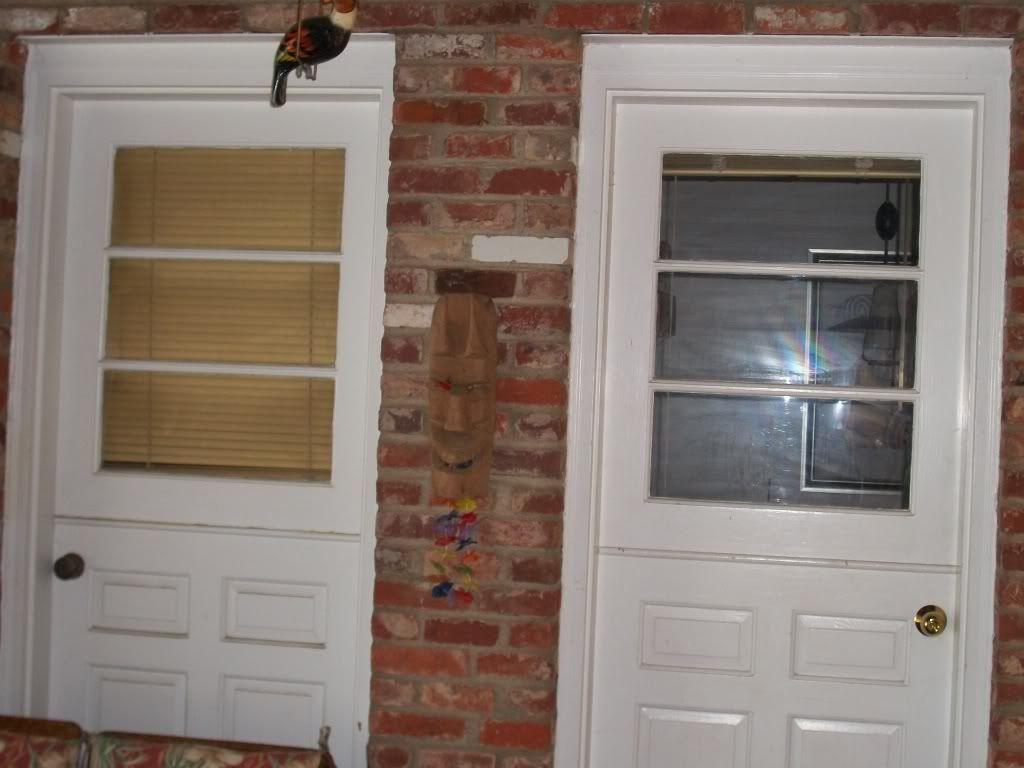 I have no idea why anyone installed these dutch doors side by side. The one on the right leads into the kitchen, and the one on the left leads into the dining room off the kitchen. A wall divides the kitchen and dining room, but there's a doorway between them. Makes no sense to have both dutch doors, but we do like them.
Second, we have a couple of blue plastic recycling bins we keep on the porch. It's very convenient to have right off the kitchen, but I really need to make some kind of screen to hide them from sight.
We have some vintage wrought iron and caned chairs and tables that we picked up years ago in an antique mall about 240 miles from home. We loved them and decided we could squeeze them into our small station wagon. It was a cramped trip, but worth it. Three of the chairs can be moved together to form a sofa, or used separately.
It wasn't hard to clean and paint the wrought iron legs on these pieces. I added a little shellac and they look almost new. One chair had some caning coming loose on an arm, but a local antique store I found does re-caning, so for a reasonable price I got the chair fixed.
Yes, that's a cat-shaped bird cage. And a vintage TV tray.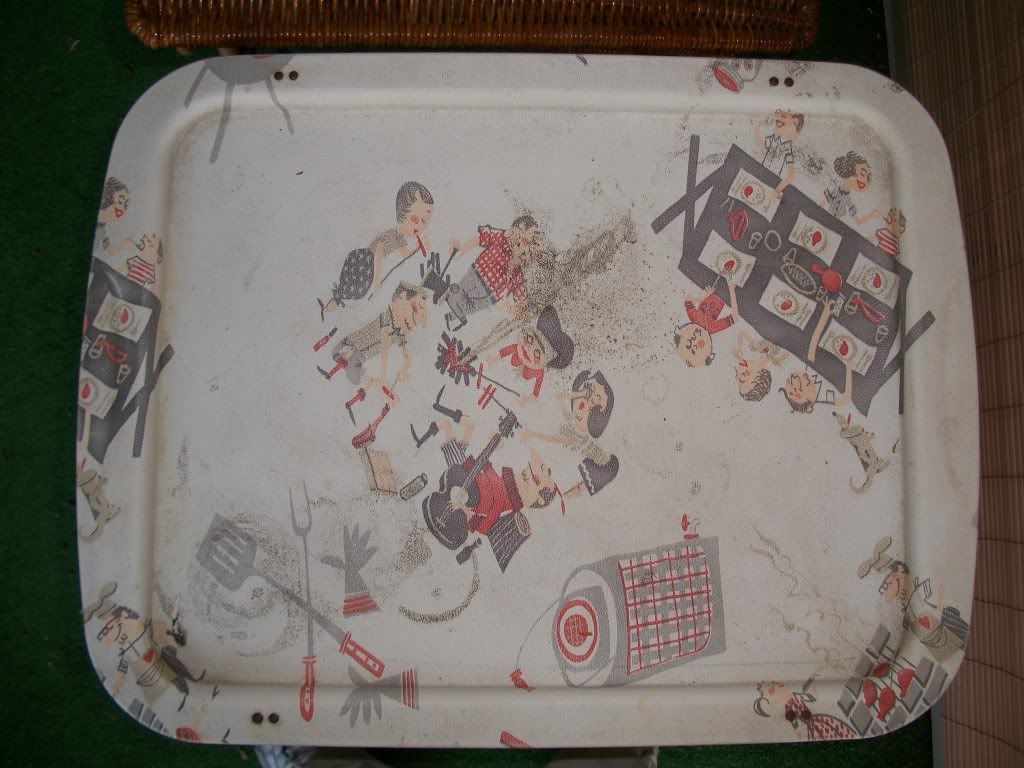 I need to clean these up some.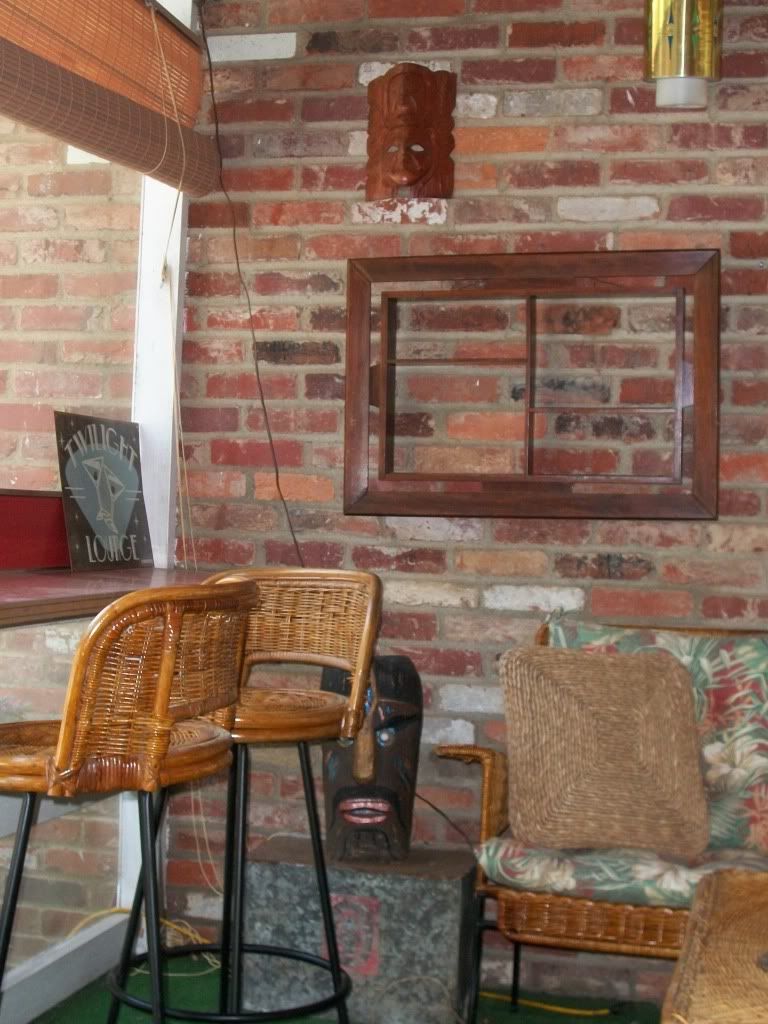 Right now, my light-up fu man chu tiki guy lurks on top of a rusty old milk box.
Last summer we added a couple of caned bar stools I saved from the trash one morning on my way to work. The stools only need a little clean up and paint on the legs. And since I had shellac left over from doing the interior walls of the Shasta camper, I just brushed a fresh coat of shellac onto the stools.
The red formica bar top is attached to the ledge along one wall of the porch. The bar top was a countertop out of a neighbor's kitchen. I saved it from the trash and used my table saw to cut about 4 inches off the back of the counter to narrow it enough to try as a bar top. Works pretty good for free.
Vintage paper mache toucan from my favorite flea market.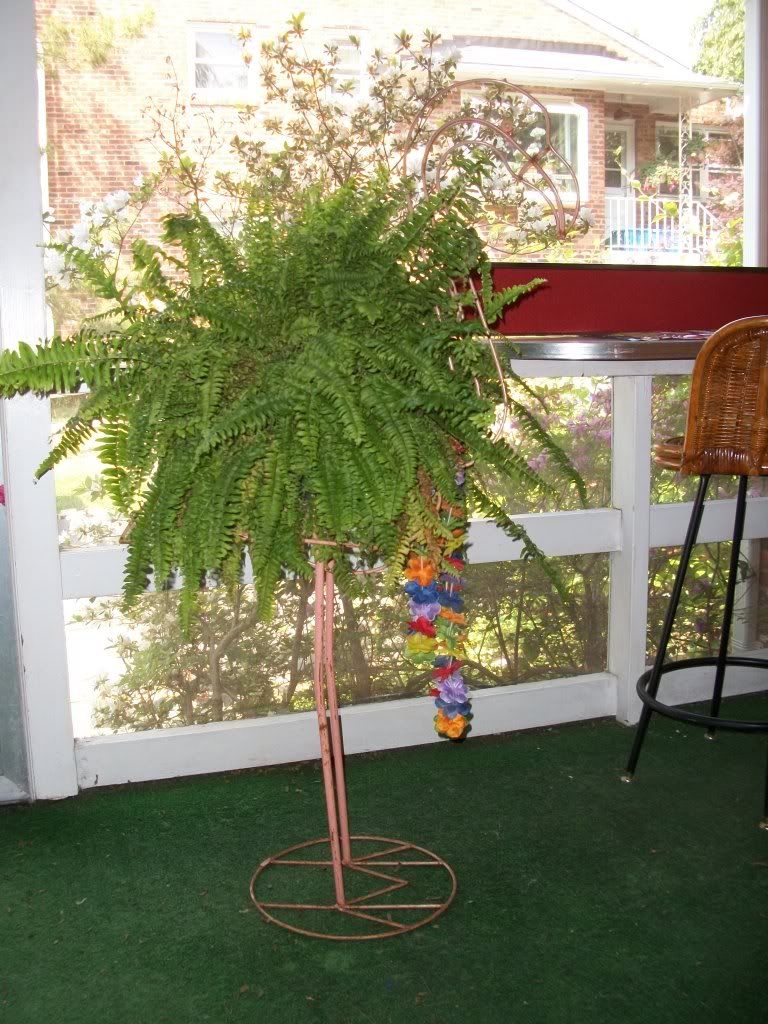 This pink wrought iron flamingo planter is hard to photograph well. Not vintage, but fun, and it fits the room.
The porch had two wooden screen doors, which I replaced with these salvaged mill-finish aluminum screen doors. Here's screen door number one. Still period correct, and they automatically latch so they're better for keeping our frisky corgi Lucy from escaping.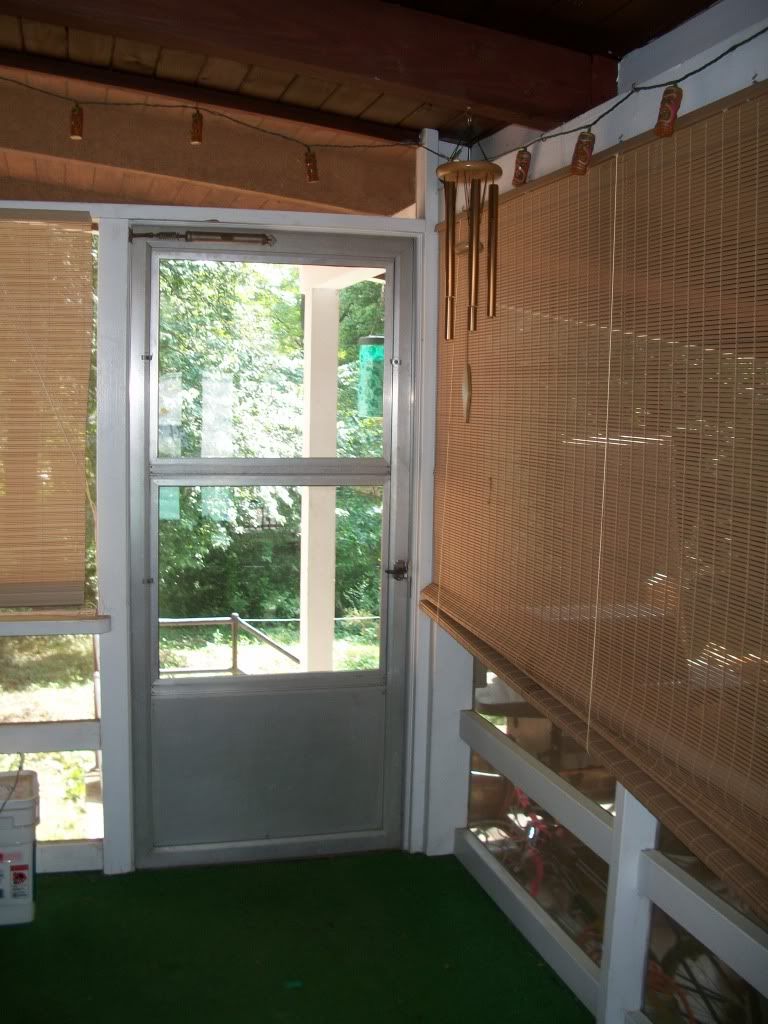 Screen door number two, directly across from screen door number one. Number two leads down a couple steps to the back of the carport and to a stairwell down to the back yard.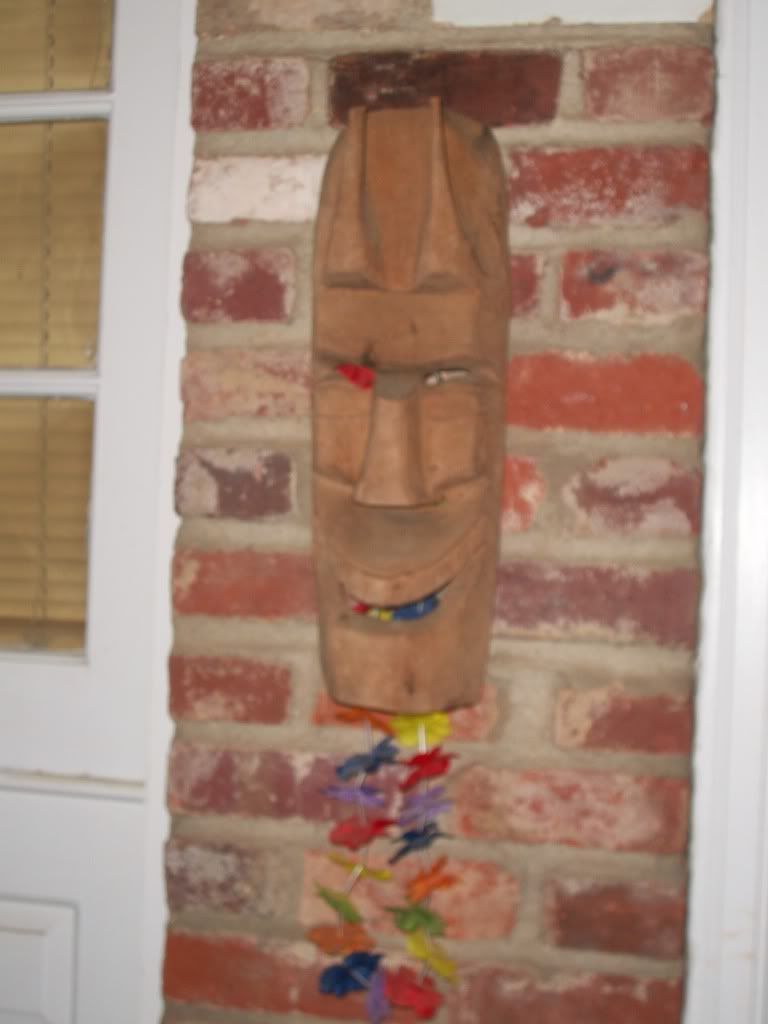 One of a couple of primitive masks I picked up pretty cheap at a yard/estate sale near my favorite flea market.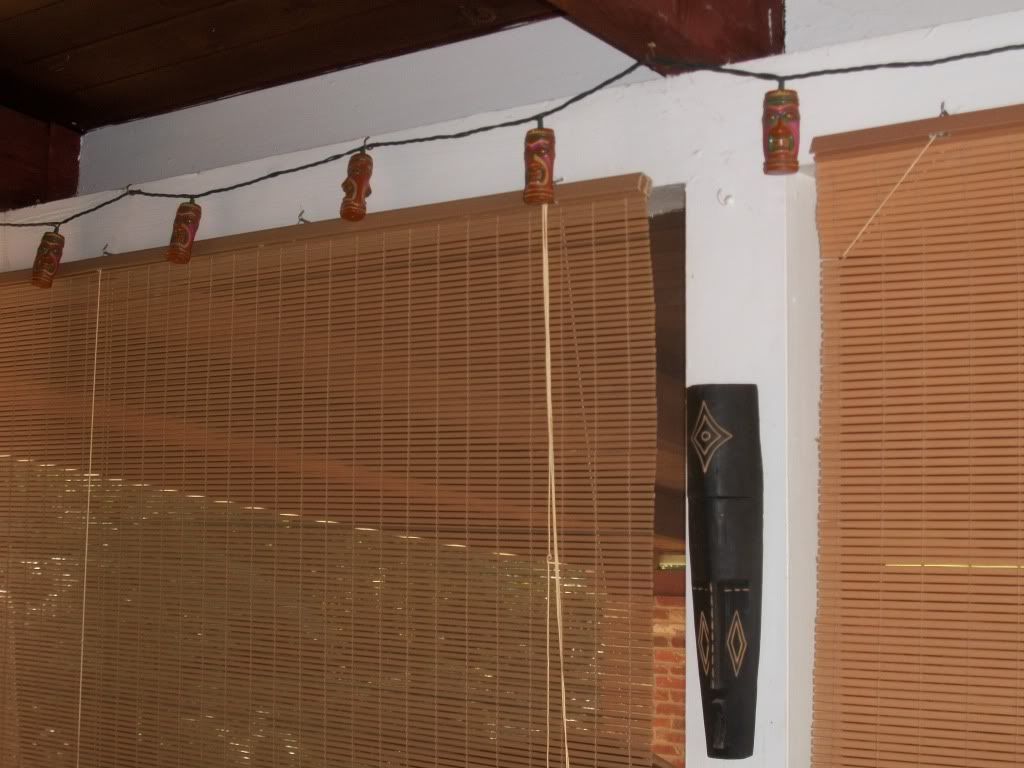 Small primitive mask and the string of tiki lights we have running around three walls of the screened porch. The blinds are cheap Home Depot plastic, but they give us a little privacy and look OK.
I should add that the screen mesh around the whole porch is original, along with the white wood trim that is nailed over the screen edges. It's all going to get replaced because the wood is rotting in spots, it's been painted too many times to look good with another repaint, and the screen mesh has some holes in it. So, one of my summer goals is to tear off the old and replace the screen mesh with a darker tinted mesh and install all new wood trim around the outside edges.
I still may close this space in some day with windows to make it a three-seasons room. I'd love to keep it looking original, and to do that I hope to run across a bunch of old jalousie-style windows. (They're the kind that have a crank and typically a lot of 3-inch wide horizontal glass panes that open when you turn the crank).
So, there you have it, the tiki-themed screened porch. It's still a work in progress. Believe it or not, we used to have a hammock frame and hammock on the porch, but it just didn't quite fit. Sure was comfortable though. Now instead we have my daughter's bamboo papasan chair. No pics of that at the moment.
I plan to install one of the 3-tirerd wall lamps this weekend and do a post comparing it to my brassy plastic disco wall lamps from the previous post. Stay tuned.