I was a little surprised to discover that my most popular blog post focused on
vintage mill finish aluminum screen doors
. That was last May.
We're up to 1,714 page views and 9 comments on that post. The last several comments have dealt with the vintage monogram letters you could once get for the screen guards that were popularly used to dress up aluminum screen doors back in the old days. I was lucky enough to even have one of the commenters set me up with the R that I was looking for. Unfortunately, I haven't been able to use that R yet.
The screen guard I have on our front door has a decorative twisted piece of aluminum that runs through the middle of the spot where a letter would otherwise mount.
And I don't want to cut the door guard. So a few months later I picked up another door guard with the letter S already in it. The door guard was painted white, and the letter S was painted orange.
I stripped most of the paint off the guard and the S, and installed the R in the "too short" screen guard to see how it would look.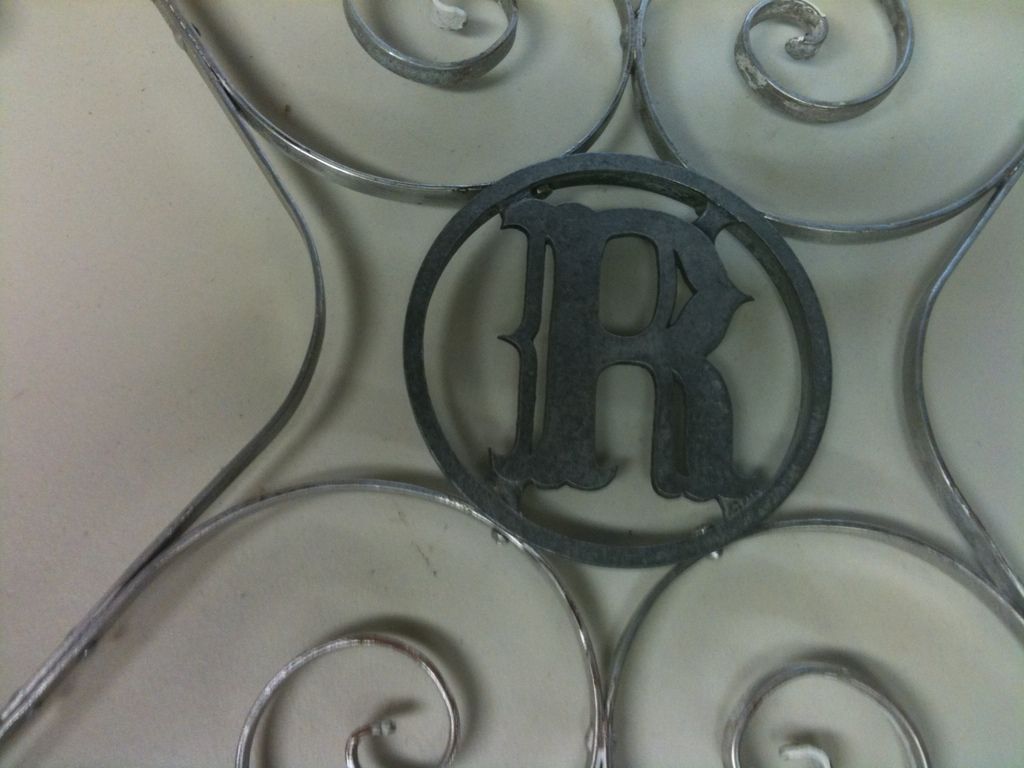 But when I held it up to our front screen door, it was about an inch short of being wide enough to work. At that point I put the project on hold. As with trying to fix old cars, sometimes you just have to walk away for a while. So it is with too short screen guards.
Since then, I've kept an eye on ebay auctions, but I haven't seen any other vintage door guards up for sale.
Anyway, here is where we stand with comments on that original post - Lynol, who kindly gave me the R that I was looking for, told me last year he was looking for an H. In March, Shio asked if anyone has an M to offer up. And this weekend, Anonymous asked if anyone has an L.
And one other commenter a few weeks ago, Brett, said that he had all of the letters and they were for sale. Whoa!!! He left his email address on his comment, and right away I emailed Lynol at the address I had for him to let him know about this opportunity.
While putting this post together, I followed up with Brett to ask if I could post his email address and advertise the availability of those monogram letters. Sadly, he said he scrapped all of those letters! (Prices for scrap metals have been rising, so I kind of understand, and he did try to offer up what he had. The same thing is happening with old cars. Steel prices are high enough to make vintage "parts" cars more valuable by the ton than by the part. That will mean fewer parts for future old car restorers.
So dear followers/commenters, I'm starting to think that just as Pam has a
Save the Pink Bathrooms
feature page, maybe I need to start a Save the Mill Finish Aluminum Screen Door Guards and Monogram Letters page. (That would be a long URL.)
Anyway, I'm glad this blog post has given people somewhere to network on this screen door letter topic. And I will keep looking for a door guard that will fit my door so I can actually install the letter R.
Feel free to post your needs, or letters you have to offer to someone who needs one, in the comment section below. I'll look into putting together a Screen Door page. And if you have any leads on the history of these screen door guards or information about companies that used to make them, I'd like to hear from you.