After I got my smaller chainsaw working well, I decided to get the bigger one fixed. I had gotten an estimate on it and at the time I thought it was too much to spend on a used chainsaw. But last week I decided to go ahead and get it fixed. I'm glad I did. Today I had my first chance to try it out, and I found that it's making cuts the smaller saw could not handle. So, I tackled the tapering of the top of the stump above the eyebrows. The weather has been wet and the goggles and face guard I'm using were fogging easily, so it was slow going, but I think I made some good progress on the top of the head. It went like this: move the ladder, wipe the moisture and fog off the goggles and facemask, start saw, make sure blade lock is on, climb ladder, line up cut, release blade lock, make angled cut, lock blade, shut off saw, climb down ladder, move ladder, and repeat. I did this about 20 times, gradually circling the stump twice, to get where I am today.
Here are a couple of pics.
Before: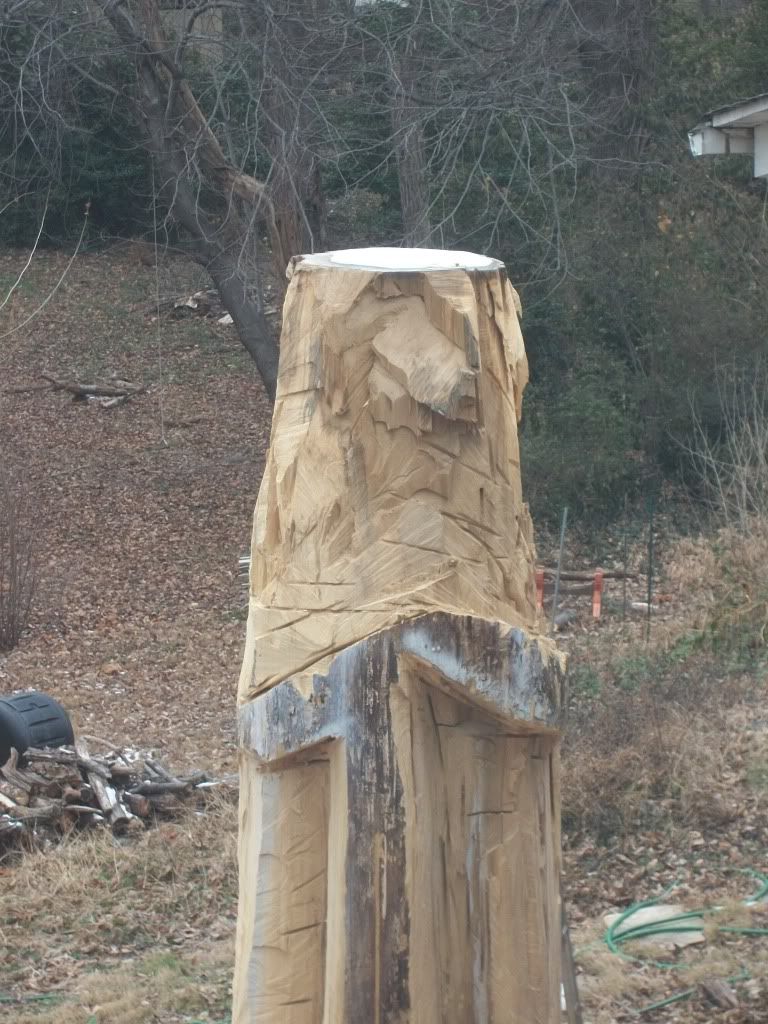 After:
I've still got some more work to do up top, then I need to clean up the area just above the eyebrows. I'm hoping with a couple more hours of sawing, I'll have the head above the eyebrows done. Then it's mostly detail work after that. So I think I'm on schedule to have this guy done sometime this Spring!